The Peacekeepers, by Jack Miller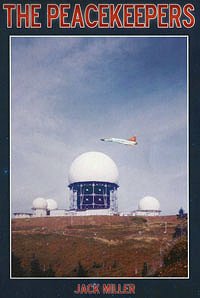 Our book "The Peacekeepers" about Radar Station vets is now available for purchase directly from AFRMA, as well as bookstores around the country. Some major bookstores (e.g., Barnes & Noble) are not able to order it from the small publisher, Houdini Publishing, due to their internal bureaucracy. Small bookstores are ordering directly from Houdini. If you know of a bookstore who will sell the book, and they need ordering information, have them contact us here at AFRMA: (hq@afrmaonline.org). I'll get them publisher information.
Title: The Peacekeepers
ISBN: 978-1-936759-09-5
Price: $15.00
Publisher: Houdini Publishing
Author: Jack Miller
Let's all make "Peacekeepers" a success story for Jack, the Museum, and us!
Order "The Peacekeepers" Now
U.S. Orders
Canadian Orders
Send a check for $19.00 ($15.00 plus $4.00 S&H first copy. Each additional copy $16.00) to:
AFRMA, Inc.
9976 Stoudertown Rd.
Baltimore, OH 43105

Be sure to include a shipping address and the number of copies you wish.

To our Canadian Brothers, Sisters & Friends. I have just discovered that U.S. Postage to Canadian addresses is now $10.55 (outrageous, I know). I have had to dramatically increase our shipping and handling fee to Canada as a result. If you know of a Canadian retailer that we can partner with to help reduce this cost to you, please let me know.

Thanks, Gene
hq@afrmaonline.org

Send a check for $27.00 USD ($15.00 plus $12.00 S&H first copy. Each additional copy $21.00 USD) to:
AFRMA, Inc.
9976 Stoudertown Rd.
Baltimore, OH 43105
USA
Be sure to include a shipping address and the number of copies you wish.

Or order & pay online with
Paypal or a credit card:

(If you're not a Paypal member, simply click on the "Don't have a Paypal account?" link to pay with your credit card.)

Or order & pay online with
Paypal or a credit card:

(If you're not a Paypal member, simply click on the "Don't have a Paypal account?" link to pay with your credit card.)